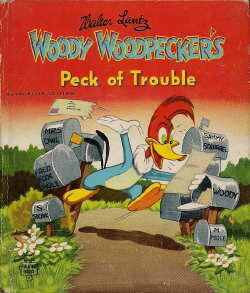 Walter Lantz - Woody Woodpecker - Peck Of Trouble - 1951 Tell-A-Tale Book (Western Publishing)
Pictures by Walter Lantz Studio
Adapted by Riley Thomson and Sam Armstrong
Adapted from the story "Now Everybody Loves Waldo" by Mabel Watts, originally published in Child Life.
Story
Woody Woodpecker annoys all his woodland friends until he and Homer Pigeon bring everyone mail.
Characters:
Woody Woodpecker
Mrs. Owl
Sammy Squirrel
Images
This book was reprinted many times from 1951 through the 80's with various catalog numbers.