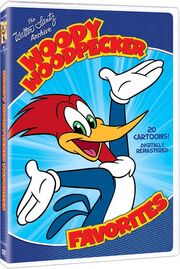 Woody Woodpecker Favourites is a Woody Woodpecker DVD.
Plot
Earlier this week we reported that Universal is bringing out a single-disc DVD release called Woody Woodpecker - Favorites. This low-priced disc ($19.98 SRP, and available at a nice discount if you pre-order using the Amazon button below) was said to come out on March 10th with 20 shorts and 2 full episodes of the TV show (four cartoons each), but we didn't have details of those contents - or package art, either - from the studio on the day of the announcement.
Well, animation expert Jerry Beck - who has worked on the Woody Woodpecker DVD releases for Universal - solved that problem the other day by posting all the details and box art at his Cartoon Brew blog. If that's not a regular stopping point for you, then you should bookmark it right now!
Woody Woodpecker Shorts