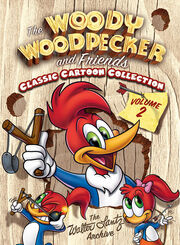 The Woody Woodpecker and Friends Classic Cartoon Collection: Volume 2 is a three-disc DVD collection of theatrical cartoons starring Woody Woodpecker and the other Lantz characters (except Oswald the Lucky Rabbit who is currently a Disney character), produced by Walter Lantz Productions for Universal Pictures between 1932 and 1958. The set was released by Universal Studios Home Entertainment on April 15, 2008. Included in the set are seventy-five cartoon shorts, including the next forty-five Woody Woodpecker cartoons, continuing the production order from Volume 1. The other thirty cartoons include five Andy Panda shorts, five Chilly Willy shorts, five Oswald the Lucky Rabbit shorts, five Musical Favorites, and ten Cartune Classics.
DVD contents
Disc One
Woody Woodpecker
1952:
1953:
1954:
Oswald the Lucky Rabbit
Cartune Classics
Bonus Features:
Disc two
Woody Woodpecker
1955:
1956:
Andy Panda
Musical Favorites
Bonus features:

Six "Behind the Scenes with Walter Lantz" segments produced for The Woody Woodpecker Show
Rare TV Pilot Episodes: :The Secret Weapon" and "Jungle Medics"
Disc three
Woody Woodpecker
1957:
1958:
Chilly Willy
Cartune Co-Stars
Bonus feature:

The Woody Woodpecker Show: Episode #47
---- This article is a Stub. You can help Walter Lantz Wiki by expanding it.
---