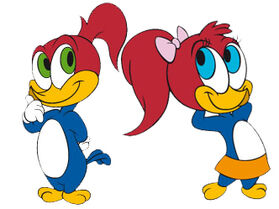 Knothead and Splinter
are the nephew and niece of
Woody Woodpecker
. They first appeared in the cartoon
Get Lost!.
Originally Knothead and Splinter were Woody's nephews in the New Funnies comic books. Knothead was Nuthead and Splinter was a boy. But in 1949, Nuthead was turned into Knothead and Splinter was a girl. In the late 1950's Knothead and Splinter appeared in both animated cartoons and comic books. They were both voiced by June Foray. Woody was voiced by Grace Stafford/Lantz/Lanza. Knothead and Splinter in the classic era had rivals such as Heckle and Jeckle, Chip N' Dale and the Goofy Gophers during their time. They also appeared in The New Woody Woodpecker Show. In that era they also had rivals too such as Bart and Milhouse from the Simpsons as well as Shrrie and Terrie and Lisa and Maggie, Bobby and Jopesh from King of the Hill Fry and Bender from Futereama
Potrayals
Edit
June Foray (1956–1965)
Grace Stafford (1970)
E. G. Daily and Nika Futterman (1999–2002) (2002–Present)
Get Lost!
Edit
In Get Lost!, Knothead and Splinter outwit a dimwitted cat voiced by Don Messick.
Community content is available under
CC-BY-SA
unless otherwise noted.