POOCH THE PUP
[[|250px]]
Pooch the Pup (art by Walter Lantz Studios).

first app.:

"The Athlete" (1932)

last app.:

"She Done Him Right" (1933)
Pooch the Pup is an anthromorphic dog created by Walter Lantz Productions during the black-and-white era of the studio's history. The character only appeared in thirteen cartoons.
Biography
Edit
In 1931, Walter Lantz was encountering slight financial troubles. One way to cope with the problems was to conceive a new series featuring a new character, thus leading to the appearance of Pooch the Pup. While Lantz went on to direct the Pooch the Pup shorts, his colleague Bill Nolan would focus on the long-running Oswald the Lucky Rabbit cartoons.[1]
Pooch made his debut in The Athlete. Here, he was a white-furred bloodhound white long black ears. In Pin Feathers, he had black fur, making very similar to Oswald, except for his long, hairless tail.
Pooch's last hurrah was in She Done Him Right, a parody of a movie called She Done Him Wrong. Following his retirement from the screen, Oswald was seen in two cartoons wearing a jacket similar to Pooch's. It was suggested that the two Oswald shorts were initially designed to feature Pooch.[2]
List of appearances
Edit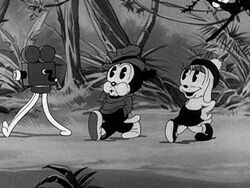 Note: One source listed "S.O.S. Icicle" (05/08/1933) as a separate cartoon[18], while another claimed it was a working title for "Hot & Cold"[9].
References
Edit
External links
Edit