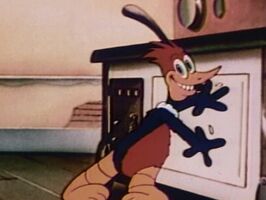 This is a list of
Walter Lantz "Cartunes"
featuring
Woody Woodpecker
. All are entries in Lantz's
Woody Woodpecker
series, except for
Knock Knock
, an
Andy Panda
cartoon,
Chilly Chums
, an
Chilly Willy
cartoon,
$21 a Day (Once a Month)
, a
Swing Symphony
cartoon, and
Musical Moments from Chopin
, a
Musical Miniatures
cartoon. All entries from the
Woody Woodpecker
series are numbered in release order.
Directors for each short are noted. Several Woody Woodpecker cartoons produced in 1940, 1941, 1951, and 1952 carry no director credit; Walter Lantz claims to have directed these shorts himself. The first ninety cartoons (Knock-Knock through Jittery Jester) were released in The Woody Woodpecker and Friends Classic Cartoon Collection Volume 1 and Volume 2.
Released by Universal Pictures (With MPAA Certificate Numbers)
Edit
(All cartoons directed by Walter Lantz - no onscreen credit)
(All cartoons directed by Alex Lovy.)
(All cartoons directed by James Culhane.)
(All cartoons directed by James Culhane)
(All cartoons directed by Dick Lundy.)
Released by United Artists (With MPAA Certificate Numbers)
Edit
(All cartoons directed by Dick Lundy.)
Released by Universal International (With MPAA Certificate Numbers)
Edit
(All cartoons directed by Walter Lantz - no onscreen credit)
Released by Universal Pictures (Universal dropped the 'International' and reverted to its original name)(With MPAA Certificate Numbers)
Edit
(All cartoons directed by Paul J. Smith and Sid Marcus)
(All cartoons directed by Paul J. Smith.)
(All cartoons directed by Paul J. Smith.)
(All cartoons directed by Paul J. Smith.)
(All cartoons directed by Paul J. Smith.)
(All cartoons directed by Paul J. Smith.)
(All cartoons directed by Paul J. Smith.)