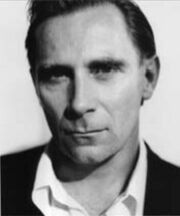 Danny Webb (born 6 June 1958) is a British television and film actor. He may be known for his role as the prisoner Morse in Alien 3.[1] He has had made appearances in many famous British television programs including The Young Indiana Jones Chronicles, Emmerdale Farm, Our Friends in the North, A Touch of Frost, Agatha Christie's Poirot, The Bill, Silent Witness, Shackleton[2] and he starred in two episodes of Doctor Who - "The Satan Pit"[3] and "The Impossible Planet". He has also starred in Britannia High as Jack Tyler and New Tricks as a DJ.
In 1985, Webb starred alongside of Jon Pertwee in a television adaptation of Karl Wittlinger's Broadway play, Do You Know the Milky Way? playing Kris, a psychiatric patient who believed he came from another star.
He has also had a recurring role in several television series, including Brookside, Cardiac Arrest and Life Begins. He also has a role in Honest playing Mack Carter.
He also appeared in the video to "Owner of a Lonely Heart" by Yes.
In 2008, Webb appeared as journalist Noel Botham in the BBC Four drama Hughie Green, Most Sincerely, as well as narrating the Games Workshop Black Library audiobook The Lightning Tower/The Dark King and the Gotrek and Felix audiobook Slayer of the Storm God. He also had a small part as a Nazi communications officer in the film Valkyrie.
In September 2009, he had a lead role in the BBC1 5-part drama series Land Girls, playing a Sergeant in the Home Guard.
Outside of acting Webb is a keen surfer and member of the Shore Surf Club, taking part in contests, when work allows.
Webb also appeared in the 2010 series of Hustle as Shaun and Emma's father and is currently playing Kevin Dalton in BBC drama Holby City.
He is now in the 2010 Lyric Hammersmith revival of Sarah Kane's Blasted
He has done some audio books for the Warhammer series from the Black Library.