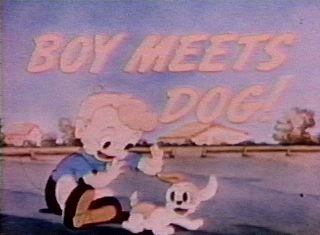 Boy Meets Dog!
is a 1938 misc cartoon distributed by
Castle Films
.
A strict, abusive, and Ill-tempered father, who won't let his son eat sundaes, go fishing or keep a stray dog named Joseph, dreams of being taken to a forest and put on trial by various elves, pixies and other creatures when the tribunal comes off the family wallpaper to stress dental health in rhythm and song. The unwanted doggie is the star witness, and the dad is sentenced to a "youth machine," which brutally turns him into a baby. Upon awakening (to the dog licking his face), he reforms and takes all the boys fishing. Don't miss eight bars of the hottest organ solo that you're ever likely to hear!
This cartoon, based on the Reg'lar Fellers comic strip, was originally made for Ipana Toothpaste and was going to be released theatrically. It never got released to theaters, but was eventually bought by Castle Films and released exclusively to the home movie market (with the plugs for Ipana Toothpaste removed).