Andy Panda is a cartoon character who starred in his own series of animated cartoon short subjects produced by Walter Lantz. These "cartunes" were released by Universal Pictures from 1939 to 1947 and United Artists from 1948 to 1949. The titular character is an anthropomorphic cartoon character, a cute panda.
History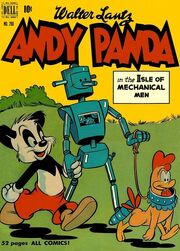 In the earliest episodes of the cartoon series, Andy is a mischievous cub, whose blustery father Papa Panda (voiced by Mel Blanc) is frequently trying to prove himself as a good role model. Later, Andy became a stand-alone star in the vein of Mickey Mouse, and even acquired a Pluto-like dog named Milo as a pet.
Andy's first cartoon was the aptly titled Life Begins for Andy Panda in 1939. (This was obvious wordplay on the perky titles of the popular Andy Hardy movies of that era. Ironically, a later Andy Hardy film was actually titled "Life Begins for Andy Hardy.") The 1940 Andy Panda short Knock Knock featured the first appearance of Lantz's biggest star, Woody Woodpecker. The character was given a major overhaul by director Shamus Culhane for the 1944 short The Painter and the Pointer, with a modified design and a far more malicious personality than he had ever shown previously, but this new version was disliked by both Lantz and audiences, and was not used again. Lantz continued to produce Andy Panda shorts until he closed his studio in 1949; Andy's last short was Scrappy Birthday (1949), which featured his girlfriend, Miranda Panda (voiced by Grace Stafford). When the studio reopened in 1951, the Andy Panda series did not return to production.
Andy Panda was originally voiced by Bernice Hansen from 1939 to 1940, with Sara Berner providing the voice from 1941 to 1944, and Walter Tetley assuming the role afterwards until the character's final short in 1949. Andy made a guest appearance in the later Woody Woodpecker TV special "Spook-A-Nanny" (1964), in which he was voiced by Daws Butler.
Andy led a major part of his career in comic books. One early Andy Panda comic book adventure was drawn by Carl Barks (New Funnies 76, 1943). John Stanley also did Andy Panda comic book work.
In late 1943, the comic book version of Andy Panda acquired a sidekick, Charlie Chicken, and stories about their often bizarre adventures ran for many years. Some were reprinted domestically as recently as the 1990s, and in Sweden as recently as 2001. Andy Panda and Charlie Chicken appeared in the Mexican comic El Pajaro Loco, both in the Editorial Novaro run from 1950 to to 1984, and the Editorial Vid run from 1986 to 2010.
In 2018, Andy Panda returned on the web series Woody Woodpecker available on the Official Woody Woodpecker YouTube channel.
See also